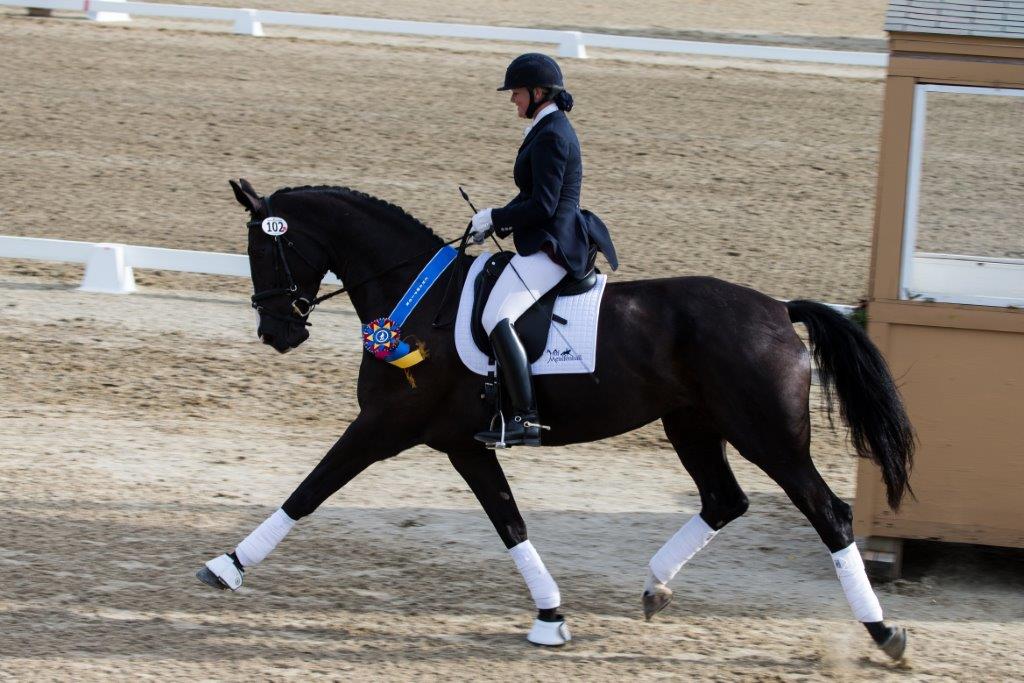 EMC Reminisce HM winning Regional Champion at NEDA 2014!
2008 Hanoverian mare by Rascalino - EM Day Dream
Welcome to the Hof Mendenhall website! We try to keep it as up-to-date as possible, but sometimes we just get too busy playing with our horses. If you have any specific questions, please feel free to call or email.
We are excited to welcome Reflection HM (Rascalino - EM Day Dream) to the world on June 1st, 2015!! This beautiful filly is a full sister to our very succesful EMC Reminisce HM. Many people over the years have inquired about the possibility of purchasing Reminisce and she will never be for sale. So here is your opportunity for the next best thing...her full sister and the last foal that EM Day Dream will carry.
It was another great year for Hof Mendenhall and our growing Team in 2014!! EM Day Dream produced another beautiful colt, this time a chestnut by Belissimo M named Benedict HM. Dakesa HM started her undersaddle career with a few outings to Material classes as a 3 year old. She received very good comments and scores and finished the season at the USDF Reserve Champion Material 3 yr old filly and also AHS Reserve Champion Material Fillies (3/4/5 yr olds). Dakesa HM also had repeat success in the New England Breeders Finals, by winning Reserve Champion Filly...proving she can get the job done undersaddle and in-hand! We also saw our extended team achieve success as various owners showed the 'HM' offspring. Congrats to Kelly and Kadence HM on their 3rd Level debut and Kerri and Sabatini HM for breaking into 2nd Level. Solitaire Welt started his eventing career with a win in the 5 year old division with Elizabeth. Loreto HM also starting his undersaddle career for Mary Ann with great comments and score to win his one material class of the year. Lorelei HM had a foal and was inspected by the AHS to be Elite Eligible. She only needs to fullfill her performance requirements to become an elite mare. But the highlight for 2014 was our own Reminisce HM coming into her own under her new rider Fie Andersen. Reminisce HM earned scores into the 80s at first level and ended the season with many titles including...Regional Champion First Level Freestyle, Regional Reserve Champion First Level, AHS Champion First Level Freestyle, USEF Silver Stirrup Champion First Level and Champion First Level Freestyle, NEDA First Level Champion and East Coast Riders Cup Champion First Level. It was very exciting to see Reminisce HM and Fie Andersen compete at the US Dressage Finals in Kentucky. Reminisce loved the big indoor arena and danced her way to 3rd place in the very large First Level Freestyle class.
Over the years we have had great success at inspection with our mares producing the TOP FOALS, whether in the US or in Germany.
2006: Saviola (Sandro Hit - SPS Pakesa) Top Foal at Hoya Foal show in Germany
2007: Legendary HM (Londonderry - SPS Destiny) Top Foal at Hoya Foal show in Germany. Also, Reserve Champion at larger regional show in Suestedt, GER. See article.
2008: Sebastian HM (Sandro Hit - SPS Pakesa) Top Colt at AHS Inspection in RI.
2009: Regalia HM (Rascalino - EM Day Dream) Top Colt at AHS Inspection in RI.
2009: Solitaire Welt HTS (Soliman de Hus - EM Weltkin) Top Colt at AHS Inspection in TX. Bred by us, foaled out with Weltkin's new owners.
2012: Royal Dancer HM (Royal Classic - SPS Destiny) Top Foal at AHS Inspection in RI.
What makes us so happy with the above stats is that each one of our mares has participated in our Champion Streak, proving the depth of quality in our small mare band!
---
Want to learn more about us at Hof Mendenhall? We recently added some pages to let you know who we are and about our breeding programs philosophy. We feel it is important to know who you are doing business with...when you buy one of our foals you become part of the ever growing Hof Mendenhall family. Check out our Yearly Awards Program to recognize the many wonderful homes that our foals have gone to! Also, stay updated on Hof Mendenhall news by signing up for our Farm Newsletter. These emails go out every 1 to 2 months depending on how much news we have to share.