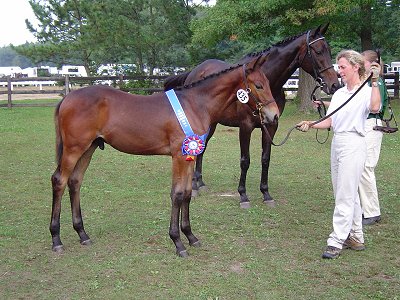 Woomera HM (Werbellin - Shining Star xx) New England Breeder Futurity Champion
---
Woomera HM:
YEAR-END RESULTS:
2004 AWS SPORTHORSE OF THE YEAR
RPSI Champion Colts of 2004 USDF All Breed (78.5%)
AWS Champion Colts of 2004 USDF All Breed (78.5%)
Woomera is the highest scoring horse with the USDF for both of the organizations!
Reserve Champion Foals of 2004 for NEDA (New England Dressage Association)
6th place USDF HOY Colts of 2004 (76.1%)
Beland Breed Show:
8-1-04 Colts of 2004 2nd place 76.1% under Gerd Zuther
Comments included: nice hind end, good freedom in shoulder.
(The first place colt went on to win Grand Champion of the entire show and was declared a stallion prospect at AHS inspection 2 days earlier)
Breezy Meadows Breed Show:
9-4-04 Colts of 2004, 73.8% under Peter Hansen

NEDA Fall Breed Show:
9-16/17-04, Judges: Anne Gribbons (USA) & Jennifer Loriston-Clarke (England)
Colts of 2004, 81.1%
RPSI IBC, 80.9% Champion
$3500 New England Breeders Futurity, 79.6% Champion
Wow, what a couple of days! We are still in shock! Our little colt is definitely growing up nicely and we are so proud of how he handled himself at this very busy show. Woomera really got into it at this show...he understood the routine and enjoyed all of the attention he was getting!
Colts of 2004 Year End Average: 77.0%
Colts of 2004 Year End Median: 76.1%
RPSI Inspection:
8-28-04 Score 7.8, high Silver medal, 2nd highest score of inspection
Comments included: nice well form shoulder with good reach, correct legs and gaits, of good warmblood type, travels up-hill in trot and canter despite being in butt high stage of growth.
Woomera had a growth spurt and was very butt high at his inspection, but wow could he still trot!
AWS Inspection:
10-13-04 Score 79.0%, Blue Preferred, Silver Medal
Woomera was butt-high again, but still moved like a dream, receiving 8's for his walk and trot. He only missed Supreme rating by 1 pt, despite being marked down for being butt-high.