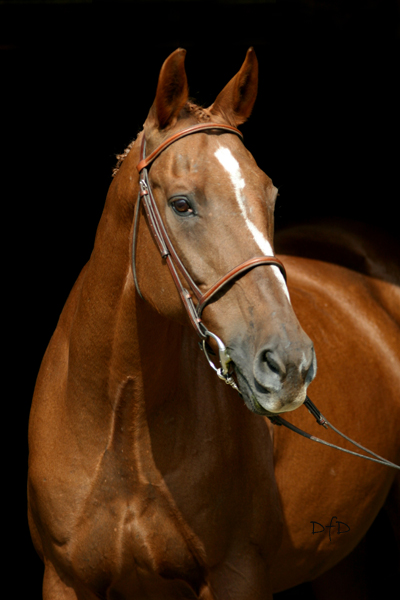 Welcome to Jack's Place. Jack is our first horse, so I often refer to him as 'my pony'. At 16.3 hands, that is pushing it alittle, but to me he is. He is a fun loving thoroughbred who loves to jump and play in the fields. We traced his tatoo and his registered name is Quite Exuberant. Any one who know Jack finds this little fact to be very true. We bought Jack in March of 2000, and he has been a childhood dream come true. He taught me to jump and I showed him up to the Adult hunters, before his age started showing in his hocks. Jack was always willing to do what ever it took to get successfully to the other side of the fence. He has heart to spare! In the Summer of 2004, Jack was retired to light riding. He has given so much that he deserves a long peaceful retirement in the back yard.
Jack is the main reason for our farm...we wanted him home with us! He is very excited about all the mares that he has had join his herd. (SShhhh...Just don't tell him that he isn't the Dad of the foals.) Jack still gives the occasional ride to visiting nieces...as always he takes this job very seriously and always takes care of his rider.
Jack loves his job as uncle to our horses. He is their companion after weaning and he teaches them about playing and herd dynamics, while the foals keep him young.