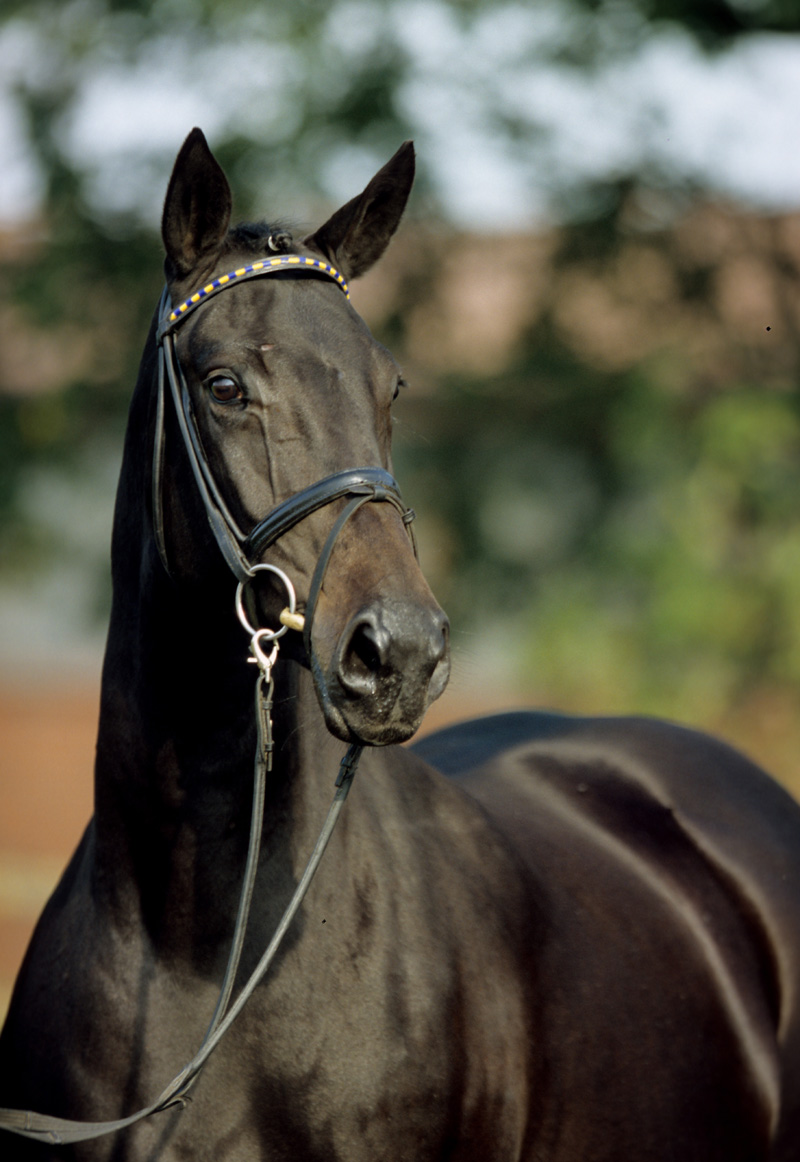 Quality foals start with quality mare lines. Equally important is a good knowledge of the mare line. Better stallion choices can be made by understanding the strong traits carried within the line. This philosophy is well known in Germany and followed by many successful breeders...know your mare lines! To this end, we have started 'Mare Line' pages on all of our girls. They will be updated as further information is obtained.
Pakesa's mare line is known to produce excellent use of the hind leg, stepping well underneath themselves. A smart line of horses, they have excellent rideabiliy and learn quickly. This line has produced States Premium mares, Licensed Stallions, Grand Prix dressage horses and foal show winners.
---
Destiny's direct mare line is in bold.
(click name to learn more about each horse)

Wanfriede

(by Wolfsburg)

(by Duktus)

(by Duerkheim)

1991 - SPS Papagena

(by Prince Thatch xx)

1999 - Don Principe

(by Donnerhall)

licensed Hann, Old
Grandprix Dressage comp.

2001 - EM Walencia
(by Waterford)


2004 - Raphaela

(by Rotspon)

2008 - c.

(by Quaterback)

2005 - Ragtime

(by Rotspon)

1992 - Prince Paolo

(by Prince Thatch xx)

(by Prince Thatch xx)

2003 f.

(by Sandro Hit)

2004 Sir Thatch

(by Sandro Hit)

30 Day Stallion Test (Redefin)

2006 Saviola

(by Sandro Hit)

Accepted to Licensing in Munich

2007 Sabatini HM

(by Sandro Hit)

2008 Sebastian HM

(by Sandro Hit)

Champion Colt at Inspection

3rd AHS In-hand Young Colts Division

2009 - Darshan HM

(by Dacaprio)

2011 - infoal

(by Dacaprio)
---
Dalietta

(no photo of Dalietta available)

Duerkesa

1991 - m. by Prince Thatch xx, SPS Papagena

1992 - g. by Prince Thatch xx, Prince Paolo

1997 - m. by Prince Thatch xx, SPS Pakesa

(no photo of Duerkesa available)

SPS Papagena

1999 - s. by Donnerhall, Don Principe (licensed, approved Grand Prix dressage stallion)

2004 - m. by Rotspon

2005 - c. by Rotspon

Missing quite a bit of Papagena's record. More to follow.

SPS Pakesa

2003 - m. by Sandro Hit

2004 - s. by Sandro Hit, Sir Thatch (successfully completed 30 day stallion test

2006 - s. by Sandro Hit, Saviola (accepted to Licensing in Munich, Germany 1/2009)

2007 - c. by Sandro Hit, Sabatini HM

2008 - g. by Sandro Hit, Sebastian HM

2009 - g. by Dacaprio, Darshan HM
2011 - infoal by Dacaprio



---
Additional family photos: