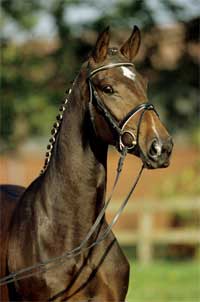 Quality foals start with quality mare lines. Equally important is a good knowledge of the mare line. Better stallion choices can be made by understanding the strong traits carried within the line. This philosophy is well known in Germany and followed by many successful breeders...know your mare lines! To this end, we have started 'Mare Line' pages on all of our girls. They will be updated as further information is obtained.
Destiny's mare line reads like a breeders fairly tale. SPS Destiny is the 8th straight States Premium mare on her dam line. Her mother, SPS Wisconsin was the Champion 4 year old in the 1998 Bundesstuten Show. She also placed 3rd undersaddle in the Bundeschampionate in 1997. This line has produced States Premium and Elite mares, winning mare family at Ratje-Niebuhr-Schau, the 1-B and 1-C winner at the DLG show, licensed stallions, USDF Reserve Horse of the Year, foal show winners, and Champion Young Colts/Geldings for the American Hanoverian Society.
---
Destiny's direct mare line is in bold.
(click name to learn more about each horse)

(by Abhang I)

|

SPS Axtamt

(by Axtfeld)

|

SPS Fluegelflut

(by Flugeladjudant)

(by Bleep xx)

(by Wittelsbach)

1C Prize DLG show

(by Duerkheim)

1989 - SPS Walodja

(by World Cup III)

(by Wesley)

1998 Champion 4 Year old

@ Bundesstuten Show

2001 - c.

Prince Thatch xx

2002 - c.

Florestan

(by Desert Moon)

2007 - Legendary HM

(by Londonderry)

2008 - Legacy HM

(by Londonderry)

2009 - Ludwig HM

(by Londonderry)

(by Londonderry)

1995 - SPS Wesermelody

(by Wesley)

1996 - Casanova

(by Cheenook)

1984 - SPS Doublette

(by Duerkheim)

1979 - SPS Wendessa

(by Wendekreis)

1B Prize DLG Show

EM Money Penny

(by Magic)

1972 - Ben Hur

(by Bleep xx)

licensed BWP

1973 - Ballade

(by Bleep xx)

1977 - SPS Alicante

(by Absatz)

1992 - Puenktchen

(by Prince Thatch xx)

Whoopy

(by Wolkenstein II)
---
SPS Adeline

Produced licensed stallion, Ben Hur. (licensed with BWP)

(no photo available)

SPS Beate

States Premium producer. Daughters where 1B and 1C winners at the DLG shows in the 1980s.

(no photo available)

SPS Winniwuk

SPS Winniwuk won the 1C prize at the 1980 DLG Show in Hannover. Her half sister, by Wendekreis, won the 1B prize at the 1982 DLG show in Muenchen.

(no photo available)

SPS Defilee

An overall 8 at her mare inspection, she was named Best Mare of Show at the 1986 Bruchhausen-Vilsen show. SPS Defilee, SPS Dublette (Defilee's sister) and their mother, SPS Winniwuk, were the Gold Medalion winners at the 1985 Ratje-Niebuhr-Schau. They were also named Best Mare Family three years in a row at their regional Hannoveraner show.

SPS Wisconsin

Champion 4 year old at the 1998 Bundesstutensshau in Warendorf. Wisconsin also placed as a 3 year old mare undersaddle at the Bundeschampionate. She was named Best Mare of Show at the 1996, 1997 and 1998 Bruchhausen-Vilsen show. SPS Wisconsin had a very successful show career which we are currently researching, more show information will be added shortly.

Studbook Inspection: Overall: 9 Head: 9, Neck: 9, Saddleposition: 9, Frame: 9, Front Leg: 7, Hind Leg: 8 Sex/Breed Type: 9, Quality Conformation: 9, Correctness of Gaits: 9, Trot: 8, Walk: 8, Overall Impression: 9

Perfmance Test: Overall: 7.89 Gaits: 8.67 ... Walk: 8, Trot: 8, Canter: 10 Rideability: 8.50 ... Judge: 8, Test Rider: 9 Jumping: 6.50 ... Form: 6, Ability 7

SPS Destiny

Her first 2 colts were both Stallion Prospects.

-2007 c., Legendary HM, in Germany was Champion of Hoya Foal Show and Reserve Champion of large Regional Suestedt Foal Show.

-2008 c., Legacy HM, in USA was the USDF Reserve Champion Horse of the Year and Champion Young Colts/Geldings (weanling/yearling) for the American Hanoverian Society.
-2009 g., Ludwig HM, injured at 3 weeks old, only shown once at 2.5 weeks old, received excellent scores and comments from Toine Hoefs.

-2010 f., Lorelei HM

Lorelei HM

2010 hanoverian filly

---
Additional family photos: