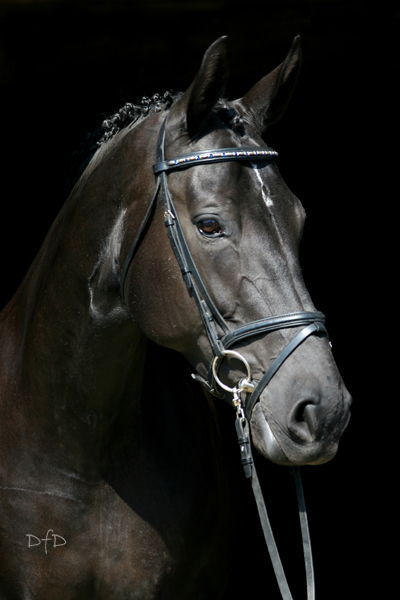 Quality foals start with quality mare lines. Equally important is a good knowledge of the mare line. Better stallion choices can be made by understanding the strong traits carried within the line. This philosophy is well known in Germany and followed by many successful breeders...know your mare lines! To this end, we have started 'Mare Line' pages on all of our girls. They will be updated as further information is obtained.
Day Dream's mare line is known to be tall, excellent character with beautiful necks. As well as extremely fertile, easy to foal, and excellent mothers. We have heard some really good things about her the performance career of her grand-dam, Lollipop, but we are waiting to confirm them officially before we post it here. Also, hoping to track down a picture of her. This mare line has produced States Premium and Elite mares, Elite Auction riding horses, Elite Foal auction horses, Mare show winners, Foal show winners, and USDF Horse of the Year.
---
Day Dream's direct mare line is in bold.
(click name to learn more about each horse)

(by Laibach)

|

Wassi

(by Windspiel)

(by Furinos)

1993 Lino Vetura

(by Lanio)

winner to M/B dressage in Germany

1995 c.

(by Lanio)

(by Don Bosco)

(by Prince Thatch xx)

(by Waterford)

2009 - Sundance
(by Sir Donnerhall)

2010 - Signator
(by Stedinger)

2011 - filly

(by Hotline)

2006 - c.

(by Don Primero)

2007 - Discovery

(by Don Marco)

2009 - foal

(by Fuerst Piccilo)

2010 - colt

(by Bequia)

2011 -

in-foal to Christ

2003 - Promise

(by Prince Thatch xx)

2008 - Hope

(by Highlander)

2010 - Highly

(by Highcruiser)

sold at Swedish

Warmblood Elite Foal

auction

2011 -

(by Insterburg TSF)

2004 - Prince von Luxemburg

(by Prince Thatch xx)

2005 - Pompeii HM

(by Prince Thatch xx)

(by Rascalino)

USDF Horse of the Year

2009 - Regalia HM

(by Rascalino)
Champion Colt @ Inspection

2010 - Seraphina HM
(by Soleil Q)
6th place USDF HOY

2011 - Loreto HM

(by Londonderry)


1999 - Escana

(by Escudo I)

2003 - Disco Volante

(by Don Bosco)

2007 Elite Riding Auction

2000 - c.

(by Don Bosco)

2003 - c.

(by Wolkentanz I)

2004 - Camilla

(by Contendro)

class winner Filsum Foal show

(by Florencio)

Winner of Mare Show

2006 - c.

(by Don Frederico)

2007 - c.

(by Don Frederico)

1998 - Parket

(by Nautilus)

1999 - Queit Duemila

(by Nautilus)

2000 - Rococo

(by Concorde)

2001 - Sergente

(by Fetiche du Pas)

2003 - Onkord

(by Concorde)
---
Lollipop (Laibach - Windspiel - Landsknecht)

1988 - m. by Furinos, Fossi

1998 - g. by Nautilus, Parket

1999 - m. by Nautilus, Queit Duemila

2000 - g. by Concorde, Rococo

2001 - g. by Fetiche du Pas, Sergente

2003 - g. by Concorde, Onkord

(no photo available)

Fossi (Furinos - Laibach - Windspiel)

1993 - g. by Lanio, Lino Ventura (winner to M/B dressage in Germany)

1995 - c. by Lanio

1998 - m. by Don Bosco, EM Day Dream

1999 - m. by Escudo I, Escana

-2003 g. by Don Bosco, Disco Volante, sold at Elite Riding Auction

2000 - c. by Don Bosco

2003 - c. by Wolkentanz I (Elite Foal Auction, Verden)

2004 - m. by Contendro, Camilla (Won class at Filsum Foal show)

2005 - m. by Florencio, SPA Florencia (Winner of Mare Show)

2006 - c. by Don Frederico

2007 - c. by Don Frederico

EM Day Dream (Don Bosco - Furinos - Laibach)

2002 - m. by Prince Thatch, Pia Zadora (broodmare @ Hof Bruening)

2003 - m. by Prince Thatch, Promise (in Sweden)

2004 - g. by Prince Thatch, Prince von Luxemburg (in Luxemburg)

2005 - g. by Prince Thatch, Pompeii HM

2008 - m. by Rascalino, Reminisce HM (USDF Horse of the Year)

2009 - g. by Rascalino, Regalia HM (Inspection Champion)
2010 - m. by Soleil Q, Seraphina HM (6th place USDF Horse of Year)
2011 - infoal to Londonderry

Reminisce HM (Rascalino - Don Bosco - Furinos)

USDF Horse of the Year 2008

AHS Reserve Champion Young Fillies 2008 (weanlings/yearlings)
---
Additional family photos: