(1985 - 2008)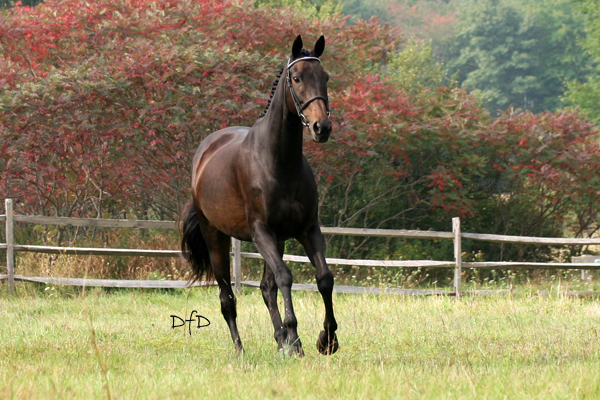 Born: May 19, 1985
Shining Star, aka Betty, is a dark bay/brown thoroughbred mare. She is extremely smart and eager to please. She likes to investigate everything. Betty traces back to some racing greats from the US and England! We jokingly describe Shining Star as very British as she is very schedule oriented...no watch nessesary. When it is dinner time or time to come in for the night she can be found at the gate waiting, so don't be late!
The first horse that we bought home to the new farm in 2001, we had originally intended to only lease Betty for two years for breeding purposes, but she has such a wonderful spirit and character that on June 16, 2002, she became a permanent member of our farm and Jeff's riding horse. Jeff rode her before she went out to be bred and wow, what a fancy trail horse. On the vertical, moving right along and bending nicely...walk, trot, canter...amazing since she has been sitting in a paddock for two years doing nothing before we bought her. Betty has one of the most comfortable canters to ride. She is extremely balanced and has a great ability to collect. It was easy to see that she had loved her former job of event/dressage horse.
After Woomera we retired Betty from our broodmare band, but she still played a very important role on our farm. She is the official Aunt to all of our foals. At weaning time, the foals are moved to the field with Jack and Betty. They provide a great balance and support for the foals as a new chapter of their life begins. Betty kindly teaches the foals about herd dynamics and proper behavior.
Sadly we lost Betty on Thanksgiving week-end 2008. She lived many happy years with us and we were blessed to have known her. Our only wish is that she could have been with us longer. Rest in Peace Beautiful Girl...we miss you!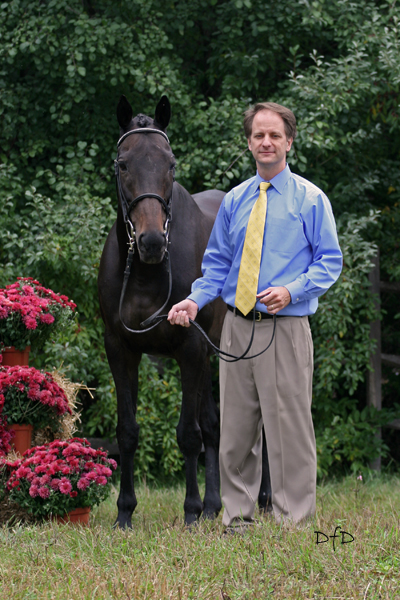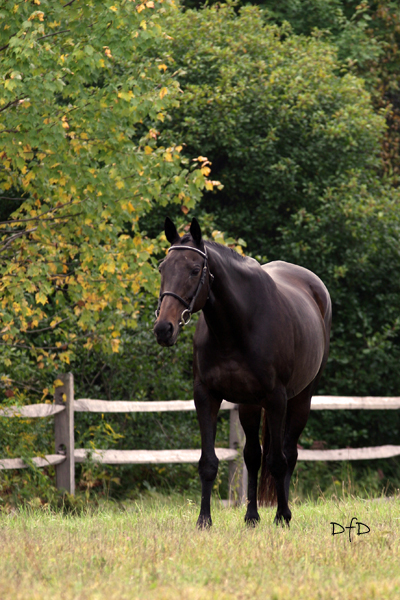 ---
Shining Star only gave us 1 foal, but what a great foal he is!
Woomera HM: 2004 RPSI gelding by Werbellin. Woomera was shown in-hand as a foal and did very well. He won the very large New England Breeders Futurity at the 2004 NEDA (New England Dressage Association) Fall Festival. For year end awards, Woomera was the Champion USDF All Breed RPSI Weanling Colts/Geldings. Woomera was actually the high scoring RPSI horse for all age and sex divisions. Woomera is now competing in eventing and dressage (just like his mother) in Ocala, FL.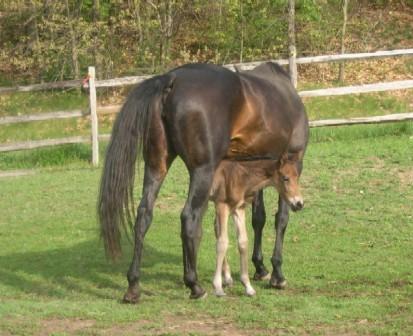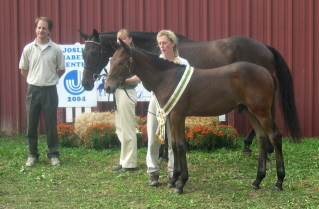 ---
Shining Star xx
Gala Decade xx
Rollicking xx
Rambunctious xx
Martinetta
Decalane xx
Decathlon xx
Lindlane xx
Miss British xx
Yorktown xx
Battlefield xx
Joodles xx
Elation II xx
British Empire xx
Lesina xx